<! blockquote>
Imperial COMPUTING alumni win BCS Programming Competition

A team of five Imperial Computing graduates achieved first place in the national finals of the 2005 BCS Programming Competition, held on 16th April at IBM Hursley, in Winchester. A second team from Imperial came third.

The competition, in its 21st year, offered a realistic platform on which IT professionals, students and academics could compete on equal terms and demonstrate their skills in a public arena. Co-ordination of their skills and the resources available were essential for success.

The competition languages were C and C++ (Visual C/C++ version 6); Java 1.4.2 (Standard Edition); Visual Basic (version 6); Perl 5.6.1.638 and the Eclipse Platform (version 2.1.0). Microsoft C# Version 2003 was available on a limited basis too.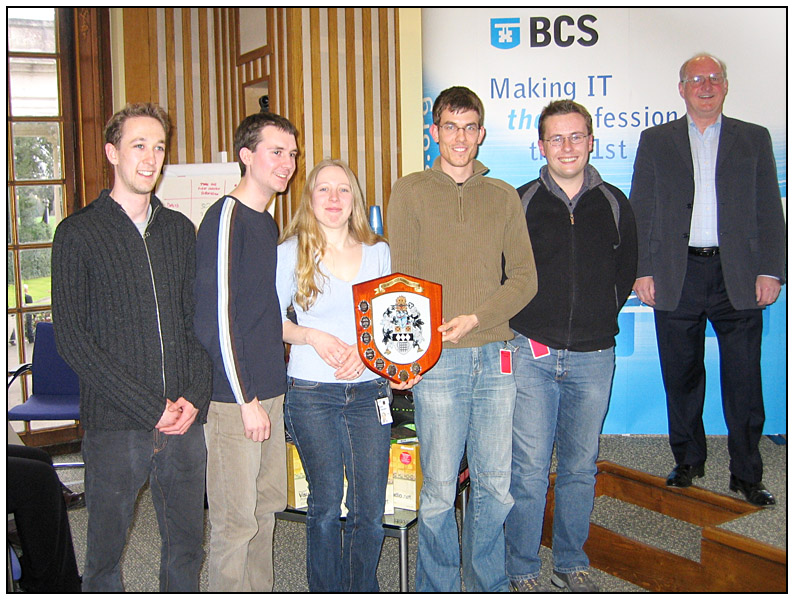 The Imperial Alumni who beat ten other teams in the final, were known as 'The Knights who say Ni'. They comprised - from left to right in the photograph - Matthew Hague (studying for a PhD in Computing at Oxford), Chris January (working for software company near Winchester), Sian January (with the Aspect-oriented Software Development Team at IBM Hursley), team leader Dorian Gaertner (studying for a PhD in Computing at Imperial) and Jonathan Hayman (studying for PhD in Computing at Cambridge).




<!/blockquote>