Fifth Workshop on Formal Methods and Tools for Security (FMATS5)
Almost a hundred participants attended this year's FMATS, held at Microsoft Research Cambridge on 21-22 September 2017.
The workshop, inspired by the grand challenge of software verification, was established in 2011 by Professor Mike Gordon of the University of Cambridge, with the aim of bringing together academia, industry and government employees interested in an effort to properly understand and address the challenges in applying formal methods to security. Since then, four more FMATS workshops have been held, with Philippa Gardner taking over as lead organiser in 2015. This year's programme included 19 specialist talks, poster presentations and a session of short talks for PhD students, RAs and industrialists to introduce themselves to each other and the audience.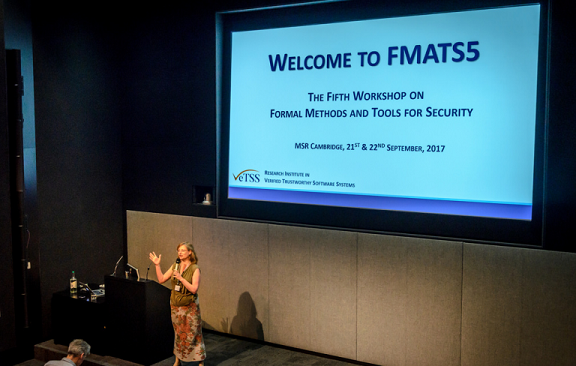 You can also see photos of the two days on the FMATS5 Flickr page.
---