Anastasios (Tassos) Roussos, Ph.D., Dipl.-Ing.
Lecturer in Computer Science, University of Exeter
Research Associate, Imperial College London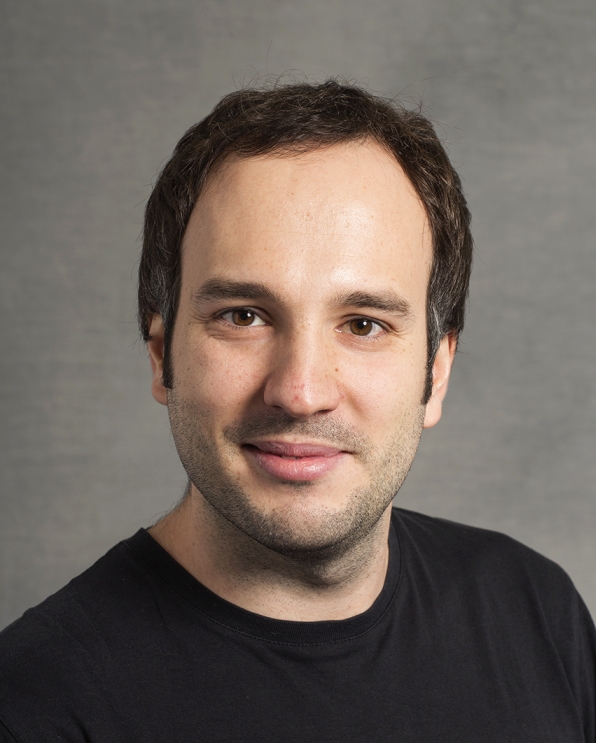 Welcome to my homepage! My name is Anastasios (Tassos) Roussos. I am a Lecturer (equivalent to Assistant Professor) in Computer Science at the University of Exeter, UK. I am also affiliated with the Department of Computing, Imperial College London. Prior to these positions, I have worked as a postdoctoral researcher at University College London (UCL) (2013-2014) and Queen Mary, University of London (2010-2013). I have studied Electrical and Computer Engineering (PhD 2010, Engineering Diploma 2005) at the National Technical University of Athens (NTUA), Greece.
My research specialises in the fields of Computer Vision, Machine Learning, Signal and Image Processing, Variational Methods and Partial Differential Equations.
In more detail, my research interests include dense variational methods, convex optimization techniques and statistical shape models for 3D face modelling, dense 4D (3D+time) reconstruction of non-rigid scenes, motion estimation and more general inverse problems in Computer Vision.
I am interested in various applications such as sign language recognition, gesture recognition, craniofacial surgery, minimally invasive surgery, markerless motion and performance capture, augmented reality, facial expression recognition, biomedical image processing and computational photography.
For further details, please see my CV: [Full CV (last updated March 2017) ...]
Research Overview
A demo video with an overview of my recent and current research:
A presentation that overviews my most recent research (you can also download a pdf version from here):
Publications
Journal Papers
A. Roussos and P. Maragos,
Reversible Interpolation of Vectorial Images by an Anisotropic Diffusion-Projection PDE,
International Journal of Computer Vision (IJCV), vol. 84, no. 2, pp. 130-145, Aug. 2009.
[pdf] [results] [code by P. Getreuer]
Conference Papers
P. Snape, A. Roussos, Y. Panagakis, S. Zafeiriou.
Face Flow,
International Conference on Computer Vision (ICCV), Santiago, Chile, December 2015.
[pdf]
E. Antonakos*, A. Roussos*, S. Zafeiriou*, *Joint first authorship
A Survey on Mouth Modeling and Analysis for Sign Language Recognition,
IEEE International Conference on Automatic Face and Gesture Recognition (FG'15), Ljubljana, Slovenia, May 2015.
[pdf]
S. Lefkimmiatis*, A. Roussos*, M. Unser, P. Maragos, *Joint first authorship
Convex Generalizations of Total Variation based on the Structure Tensor with Applications to Inverse Problems,
Int'l Conference on Scale Space and Variational Methods in Computer Vision (SSVM), Schloss Seggau, Graz region, Austria, June 2-6, 2013.
[pdf] [supp.material]
R. Garg, A. Roussos and L. Agapito,
Robust Trajectory-space TV-L1 Optical Flow for Non-rigid Sequences,
Proc. 8th International Conference on Energy Minimization Methods in Computer Vision and Pattern Recognition (EMMCVPR), Saint Petersburg, Russia, July 25-27, 2011.
[pdf] [ground truth & videos]
A. Roussos and P. Maragos,
Tensor-Based Image Diffusions Derived from Generalizations of the Total Variation and Beltrami Functionals,
Proc. IEEE Int'l Conf. on Image Processing (ICIP), Hong Kong, Sep. 26-29, 2010.
[pdf] [presentation]
A. Roussos, S. Theodorakis, V. Pitsikalis and P. Maragos,
Affine-Invariant Modeling of Shape-Appearance Images applied on Sign Language Handshape Classification,
Proc. IEEE Int'l Conf. on Image Processing (ICIP), Hong Kong, Sep. 26-29, 2010.
[pdf]
A. Roussos, S. Theodorakis, V. Pitsikalis and P. Maragos,
Hand Tracking and Affine Shape-Appearance Handshape Sub-Units in Continuous Sign Language Recognition,
Workshop on Sign, Gesture and Activity, 11th European Conference on Computer Vision (ECCV), Crete, Greece, September 2010.
[pdf]
A. Katsamanis, A. Roussos, P. Maragos, M. Aron and M.-O. Berger
Inversion from Audiovisual Speech to Articulatory Information by Exploiting Multimodal Data,
International Seminar on Speech Production (ISSP), Strasbourg, France, Dec. 2008.
[pdf] [bib] [presentation]
M. Aron, A. Roussos, M.-O. Berger, E. Kerrien and P. Maragos,
Multimodality Acquisition of Articulatory Data and Processing,
16th European Conference on Signal Processing (EUSIPCO), August 25-29, 2008, Lausanne - Switzerland.
[pdf]
A. Roussos and P. Maragos,
Vector-Valued Image Interpolation by an Anisotropic Diffusion-Projection PDE,
1st Int'l Conference on Scale Space and Variational Methods in Computer Vision (SSVM), Ischia, Italy, May 30 - June 2, 2007.
Received the Best Student Paper Award of the conference.
[pdf] [presentation] [results]
Book Chapters
A. Roussos, S. Theodorakis, V. Pitsikalis and P. Maragos,
Dynamic Affine-Invariant Shape-Appearance Handshape Features and Classification in Sign Language Videos,
In S. Escalera, I. Guyon, and V. Athitsos, editors, Gesture Recognition, pages 231--271. Springer International Publishing, Cham, 2017.
[SpringerLink]
Theses
A. Roussos,
Nonlinear Diffusion in Computer Vision and Statistical Shape Models, with Applications in Image Analysis of Articulators of Voiced and Signed Speech,
PhD thesis, ECE School, NTUA, October 2010. Thesis supervisor: P. Maragos.
[pdf (in greek)] [presentation in greek] [presentation in english]
A. Roussos,
Theory and Applications of Partial Differential Equations in Computer Vision (in greek),
Diploma thesis, ECE School, NTUA, October 2005. Thesis supervisor: P. Maragos.
[zip]
CONTACT
Anastasios (Tassos) Roussos

University of Exeter,
College of Engineering, Mathematics and Physical Sciences,
Department of Computer Science,
Exeter, UK, EX4 4QF

Imperial College London,
Department of Computing,
Huxley Building
180 Queen's Gate, South Kensington Campus
London SW7 2AZ

email: troussos at imperial.ac.uk