<!div class="spacer"><!/div>
Note: Some of the graphical elements of this site are only visible to browsers that support accepted web standards. The content of this site is, however, accessible to any browser or Internet device.
<! blockquote>
News
IMPERIAL ALUMNI AND STUDENTS TRIUMPH AT 2006 INDEPENDENT GAMES AWARDS

Darwinia, a game produced by Introversion Software, the company set up by Chris Delay, Mark Morris and Thomas Arundel, former students of the Department of Computing, together with current student John Knottenbelt, has won the top award - the Seamus McNally Grand Prize of $20,000 - in the IGF Main Competition held at the 2006 Independent Games Festival Awards in San Jose, California. Darwinia also secured prizes for Technical Excellence and for Innovation In Visual Arts.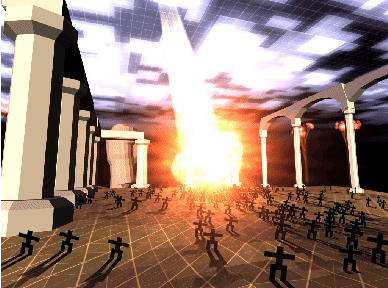 More information about the 2006 Independent Games Festival Awards


Introversion Software website
Read Chris Delay's article in the Guardian newspaper about how Introversion was formed .
---
<!/blockquote>