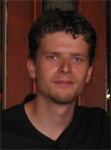 Tobias Becker
Welcome to my home page. I'm a postdoctoral researcher in the Custom Computing Group in the Department of Computing at Imperial College London.
Research
My research interests lie in Field-Programmable Gate Arrays (
FPGAs
) with special focus on design methods, tools and applications involving run-time reconfiguration. I'm currently working on the
EPiCS
project which focuses on self-aware compute systems. I'm also involved in the
FASTER
project which targets a new design approach for reconfigurable technology.
Publications
S. Denholm, H. Inoue, T. Takenaka, T. Becker and W. Luk. "Low Latency FPGA Acceleration of Market Data Feed Arbitration", International Conference on Application-specific Systems, Architectures and Processors (ASAP), 2014. (to appear)
M. Kurek, T. Becker, T. C.P. Chau and W. Luk. "Automating Optimization of Reconfigurable Designs", International Symposium on Field-Programmable Custom Computing Machines (FCCM), 2014.
D. N. Pnevmatikatos, T. Becker, A. Brokalakis, G. Gaydadjiev, W. Luk, K. Papadimitriou, I. Papaefstathiou, O. Pell, C. Pilato, D. Pau, M. D. Santambrogio, D. Sciuto and D. Stroobandt. "Effective Reconfigurable Design: the FASTER Approach", International Symposium on Applied Reconfigurable Computing (ARC), 2014.
Riccardo Cattaneo, Xinyu Niu, Christian Pilato, Tobias Becker, Wayne Luk, Marco D. Santambrogio. "A framework for effective exploitation of partial reconfiguration in dataflow computing", Reconfigurable and Communication-Centric Systems-on-Chip (ReCoSoC), 2013 .
M. Kurek, T. Becker and W. Luk. "Parametric Optimization of Reconfigurable Designs using Machine Learning", International Symposium on Applied Reconfigurable Computing (ARC), 2013.
T. Becker, A. Agne, P. Lewis, R. Bahsoon, F. Faniyi, L. Esterle, A. Keller, A. Chandra, A. Jensenius, S. Stilkerich. "EPiCS: Engineering Proprioception in Computing Systems", International Conference on Computational Science and Engineering (CSE), 2012.
K. Papadimitriou, C. Pilato, D. N. Pnevmatikatos, M. D. Santambrogio, C. Bogdan Ciobanu, T. Todman, T. Becker, T. Davidson, X. Niu, G. Gaydadjiev, W. Luk and D. Stroobandt. "Novel Design Methods and a Tool Flow for Unleashing Dynamic Reconfiguration", International Conference on Computational Science and Engineering (CSE), 2012.
T. Pitkänen, P. Jamieson, T. Becker, S. Moisio, J. Takala. "Power Consumption Benchmarking for Reconfigurable Platforms", Analog Integrated Circuits and Signal Processing, vol 73, issue 2, Nov. 2012.
Q. Jin, T. Becker, W. Luk and D. Thomas. "Optimising Explicit Finite Difference Option Pricing For Dynamic Constant Reconfiguration", International Conference on Field Programmable Logic and Applications (FPL), 2012.
D. N. Pnevmatikatos, T. Becker, A. Brokalakis, K. Bruneel, G. Gaydadjiev, W. Luk, K. Papadimitriou, I. Papaefstathiou, O. Pell, C. Pilato, M. Robart, M. D. Santambrogio, D.Sciuto, D. Stroobandt and T. Todman. "FASTER: Facilitating Analysis and Synthesis Technologies for Effective Reconfiguration", Euromicro Conference on Digital System Design (DSD), 2012.
K. H. Tsoi, T. Becker and W. Luk. "Modelling Reconfigurable Systems in Event Driven Simulation ", ACM SIGARCH Computer Architecture News, vol. 40, no.5, pp. 34-39, December 2012.
M. D. Santambrogio, D. N. Pnevmatikatos, K. Papadimitriou, C. Pilato, G. Gaydadjiev, D. Stroobandt, T. Davidson, T. Becker, T. Todman, W. Luk, A. Bonetto, A. Cazzaniga, G. Durelli and D. Sciuto. "Smart technologies for effective reconfiguration: The FASTER approach", Reconfigurable and Communication-Centric Systems-on-Chip (ReCoSoC), 2012.
T. Becker, Q. Jin, W. Luk and S. Weston. "Dynamic Constant Reconfiguration for Explicit Finite Difference Option Pricing", International Conference on Reconfigurable Computing and FPGAs (ReConFig), 2011.
T. Becker, Q. Liu, W. Luk, G. Nebehay and R. Pflugfelder. "Hardware-accelerated object tracking", Computer Vision on Low-Power Reconfigurable Architectures Workshop, Field Programmable Logic and Applications, 2011.
M. Bogdanski, P. R. Lewis, T. Becker and X. Yao. "Improving scheduling techniques in heterogeneous systems with dynamic, on-line optimisations", Complex, Intelligent, and Software Intensive Systems (CISIS), 2011.
T. Becker, M. Koester and W. Luk, "Automated placement of reconfigurable regions for relocatable modules", IEEE International Symposium on Circuits and Systems, 2010
T. Becker, W. Luk and P.Y.K. Cheung, "Energy-aware optimisation for run-time reconfiguration", Proc. IEEE Symposium on Field Programmable Custom Computing Machines, 2010
P. Jamieson, T. Becker, P.Y.K. Cheung, W. Luk, T. Rissa and T. Pitkänen, "Benchmarking and evaluating reconfigurable architectures targeting the mobile domain", ACM Transactions on Design Automation of Electronic Systems, vol 15, issue 2, 2010
T. Becker, P. Jamieson, W. Luk, P.Y.K. Cheung and T. Rissa, "Power Characterisation for Fine-Grain Reconfigurable Fabrics", International Journal of Reconfigurable Computing, vol. 2010, Article ID 787405, 9 pages, 2010
P. Jamieson, T. Becker, W. Luk, P.Y.K. Cheung, T. Rissa and T. Pitkänen, "Benchmarking Reconfigurable Architectures in the Mobile Domain", IEEE Symposium on Field-Programmable Custom Computing Machines, 2009
T. Becker, P. Jamieson, W. Luk, P.Y.K. Cheung and T. Rissa, "Power characterisation for the fabric in fine-grain reconfiguralbe architectures", Southern Conference on Programmable Logic, IEEE, 2009
T. Becker, W. Luk and P.Y.K. Cheung, "Parametric Design for Reconfigurable Software-Defined Radio", Proceedings of the 5th international workshop on Reconfigurable Computing, Springer, 2009
T. Becker, P. Jamieson, W. Luk, P.Y.K. Cheung and T. Rissa, "Towards benchmarking energy efficiency of reconfigurable architectures", International Conference on Field Programmable Logic and Applications, IEEE, 2008
T. Becker, W. Luk and P.Y.K. Cheung, "Enhancing Relocatability of Partial Bitstreams for Run-Time Reconfiguration", Proc. IEEE Symposium on Field Programmable Custom Computing Machines, 2007
A. Derbyshire, T. Becker and W. Luk, "Incremental Elaboration for Run-Time Reconfigurable Hardware Designs", CASES '06: Proceedings of the 2006 International Conference on Compilers, Architecture and Synthesis for Embedded Systems, pp. 93-102, ACM Press, 2006
P. Sedcole, B. Blodget, T. Becker, J. Anderson and P. Lysaght, "Modular Dynamic Reconfiguration in Virtex FPGAs", IEE Proceedings Computers & Digital Techniques, vol. 153, no. 3, pp. 157-164, May 2006
P. Sedcole, B. Blodget, J. Anderson, P. Lysaght and T. Becker, "Modular Partial Reconfiguration in Virtex FPGAs", Proc. International Conference on Field-Programmable Logic and Applications, pp. 211-216, August 2005
M. Huebner, T. Becker, J. Becker, "Real-Time LUT-Based Network Topologies for Dynamic and Partial FPGA Self-Reconfiguration", SBCCI '04: Proceedings of the 17th Symposium on Integrated Circuits and System Design, pp. 28-32, ACM Press, 2004
Contact details
Tobias Becker
Department of Computing
Imperial College London
South Kensington Campus
London SW7 2AZ, United Kingdom

Phone: +44 (0) 20 7594 8185
Email: tobias.becker04

imperial.ac.uk